2021 LEWT/BWWC Championship ~ 11.26.21
Well the 2021 Championship is in the books. I will post a full recap later but the results are now final. Congrats to Chase Cominsky and Jake Runyan for killing it this week in the Championship and the Fall Derbies.
Huge Congratulations to Ryan Yonkers and Cole Carlson for claiming the first annual Big Water Walleye Championships & Lake Erie Walleye Trail Ohio State Team of the Year Title.
Great Season Everyone! Schedule will be announced this week stay tuned!
A big thank you to all of our anglers who fished our events this season.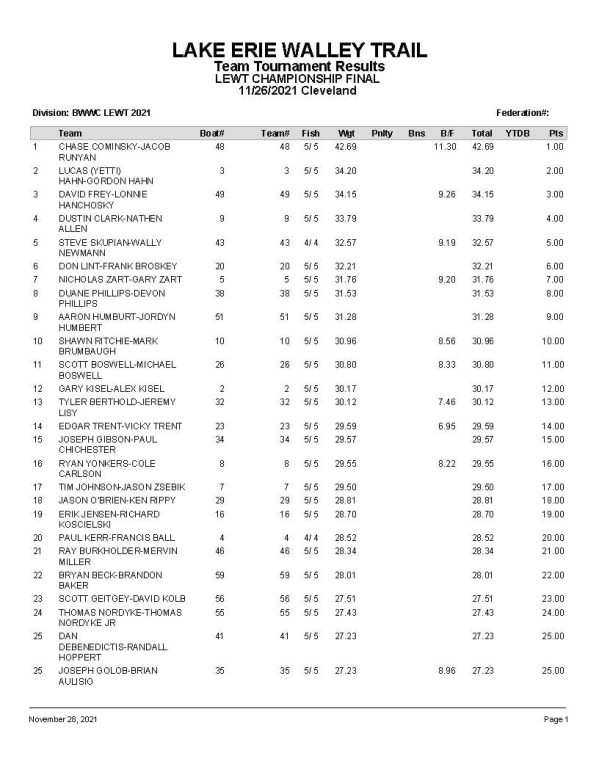 Ashtabula ARU Open #5 ~ 7.24.21 ~ 2021 LEWT/BWWC Tournament Results
Well the record has been set! The Vic's Sports Center LEWT Open hosted by ARU Marina & Campgrounds in Ashtabula sent off a record number 67 teams the morning of July 24, 2021.
On the LEWT side of things Tyler Berthold continues his hot streak and pulls off another win, pulling nearly 28# of hard-earned Lake Erie gold!
Tyler also won the Side Pot sponsored by Jeremy Lisy (while he was on vacation). Tyler bit into the lead of Ryan Yonkers and Cole Carlson in the TOY Race with their second LEWT victory of the year!
LEWT anglers Charles Wagner and wife Laurie secured second place with 26.18# which was anchored by a 10.91# true Lake Erie dinosaur. They also won Big Fish and Second Place Side Pot.
David Kraut and Sam Downing played their cards right in our first event out to the east, catching 25.49# and good enough for 3rd place. Kraut and Downing are now second in the LEWT TOY race and gaining momentum for the end of the year.
Mike Miller and partner/sub/LEWT Sponsor Chris Hoopes locked in 4th place in both LEWT and OPEN Divisions with 24.87#. Miller was due and has now hopefully found his stride heading into the wheelhouse eastern events.
Steve Hendricks and Brian Ulmer brought home another top five finish with 24.40# that lands them securely in 3rd place for the LEWT TOY standings. Steve and Brian have quietly stayed consistent this season and look to make a race at that TOY Ohio State Championship.
Last team cashing a check in the LEWT division was Don Lint and Frank Broskey weighing in 24.31#.
Open Division: Team Johnny Kurtz took the day with 29.06#.
**All results are pending until after results of the polygraphs are in.
2021 LORAIN OH ~ 6.5.21 Tournament Results
Harmon & Pettry lock up Lorain with 37.24#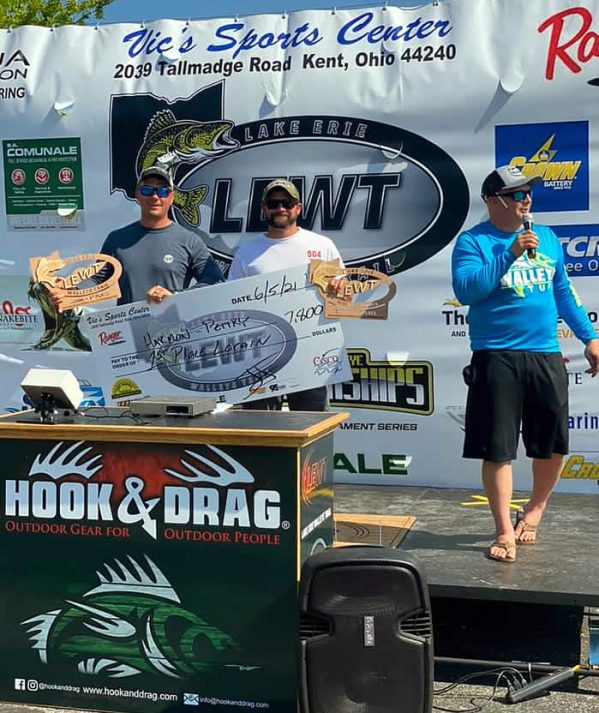 The 4th stop of the Lake Erie Walleye Trail is now in the books and…yet another thriller! Captains Andrew Harmon and Ryan Pettry secured the win bagging 37.24# of Lake Erie Gold. Harmon and Pettry both entered the Erie Outfitters contingency which paid an additional $500. They took home a total of $7,800 for the day.
Cole Carlson and Ryan Yonkers captured their third 2nd Place finish on the season with a solid 36.50#. Yonkers and Carlson also take Ranger Cup and will bring home $4,200 for their efforts.
LEWT Newcomer Matt Neighbors and Roger Hill claim the 3rd spot at Lorain with 34.53#. Neighbors has never fished a tournament but I'm sure we will be seeing more of him after cashing a $3,260 check.
Don Lint and Frank Broskey found themselves in the top 4 by putting together a 33.30# bag. 4th place was worth $1700.
Samuel Downing and David "Sour" Kraut locked in another top 5 finish making them serious contenders for the team of the year title. Sam and David locked in 5th place with 32.56# and brought home $1500.
LEWT paid out nearly $23,000 in cash and prizes to 74 Lorain Teams.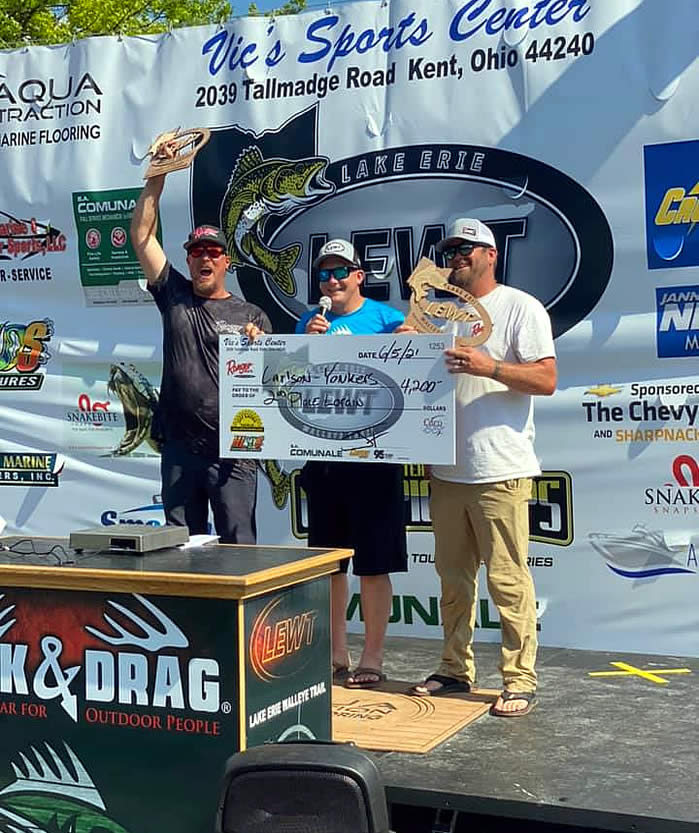 2021 HUron OH ~ 5.15.21 Tournament Results
When you think of Lake Erie walleyes you think of GIANTS! That thought does not always translate into reality when fishing for these elusive creatures. On Saturday May 15, the stars lined up and LEWT Anglers were able to bring in the biggest bags the series has seen in years.
Tyler Berthold and Jeremy Lisy made history in Huron with 44.81# anchored by a 11.33# GIANT Lake Erie walleye. Berthold and Lisy claimed the top prize in not only the tourney, but the Big Fish and Side Pot also! PLUS, running a Ranger Boat paid huge dividends and added another $7,000 – making for a TOTAL $15,840 in cash and the LEWT's biggest payout ever!
The Huron event sent off 73 teams who were fighting for $24,000 in cash and prizes. We knew it was going to be a good day as the camera boat ran into anglers who were already boasting giants in their livewell when we arrived. New LEWT Video PROMO coming soon!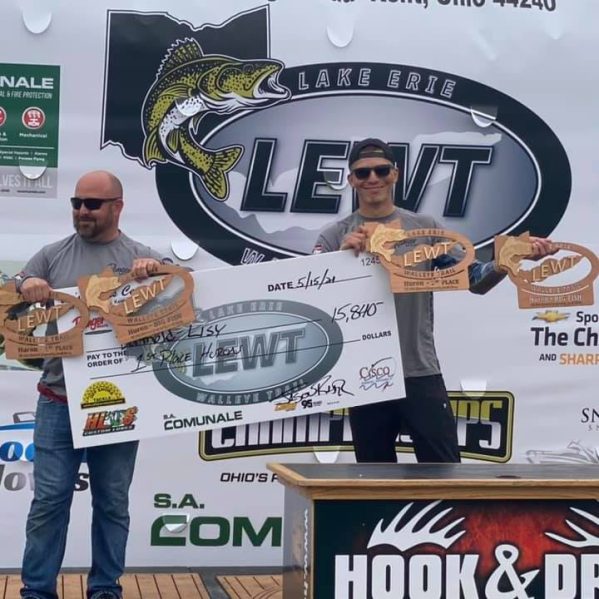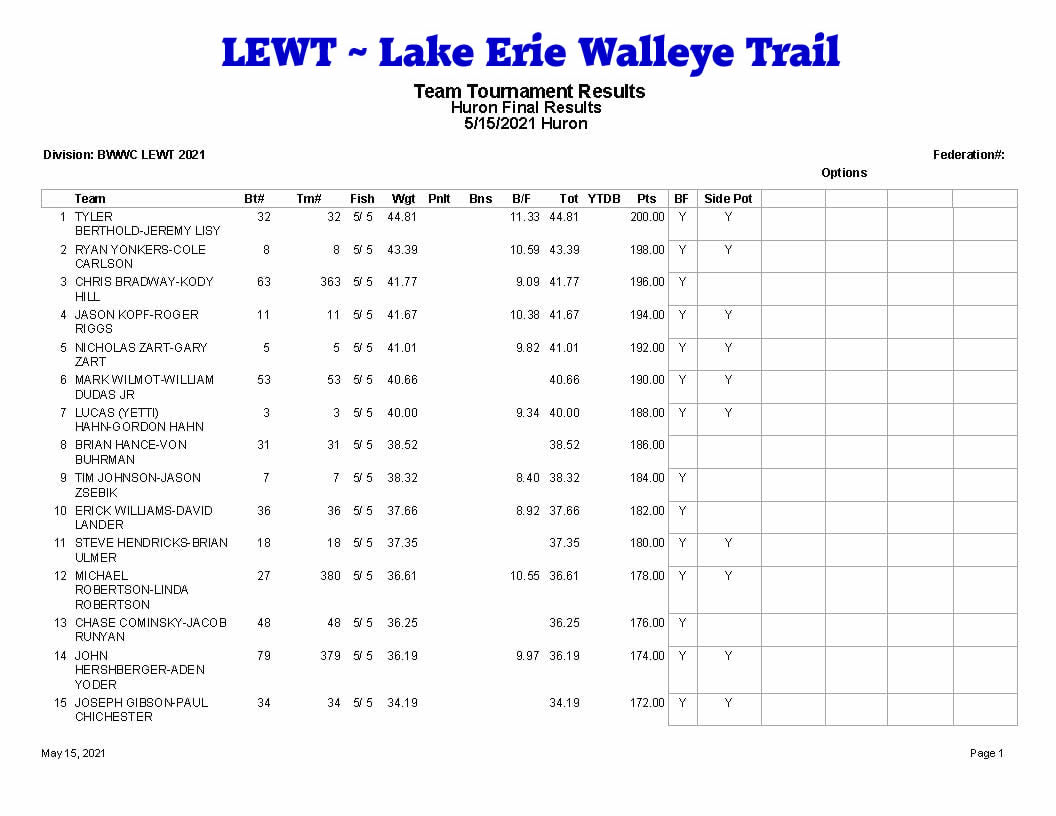 The team of Lucas and Gordon Hahn – currently 2nd in Team of the Year points and the defending Huron Champs – opened the scales with a 40-lb bag, immediately setting the bar and making a solid title defense. That weight was short lived because Tyler Berthold of Colombia Station and Jeremy Lisy of Akron rocked the scales with a 44.81# bag anchored by a 11.33#! This monster bag and monster big fish withstood the tale of time holding off six additional 40-lb., 5-fish bags.
Team of the Year Points Leaders Ryan Yonkers and Cole Carlson did what they always do and put up a massive 43.39# of Lake Erie walleye claiming second place for $3,860. Cole and Ryan have officially put everyone on notice that they mean business in earning that extra $10,000 Team of the Year bonus sponsored by Vic's Sports Center and S.A. Comunale.
Chris Bradway and Kody Hill followed up with a 41.77# 5-fish limit, stealing the 3rd place spot from long time tournament anglers and home town team Jason Kopf and Roger Rigg who put up 41.67# respectively.
Vic's Sports Center and Ranger Pro's Gary and Nicholas Zart rounded out the top five with 41.01-lbs. Gary and Nicholas have now cashed in two of the last three events and look to make a move in the Team of the Year points race!
Bill Dudas and Mark Wilmot earned a well deserved 6th place finish posting 40.66# and edging out defending champs and current 2nd place TOY points team Lucas the "Yeti" and "G-Man" Hahn.
Thank you to our sponsors and it pays to shop with those who support the LEWT!
NEXT STOP: Lorain, Ohio on June 5th. Remember – Early Birds can always sign up for a spot. Keep working on that TOY points race.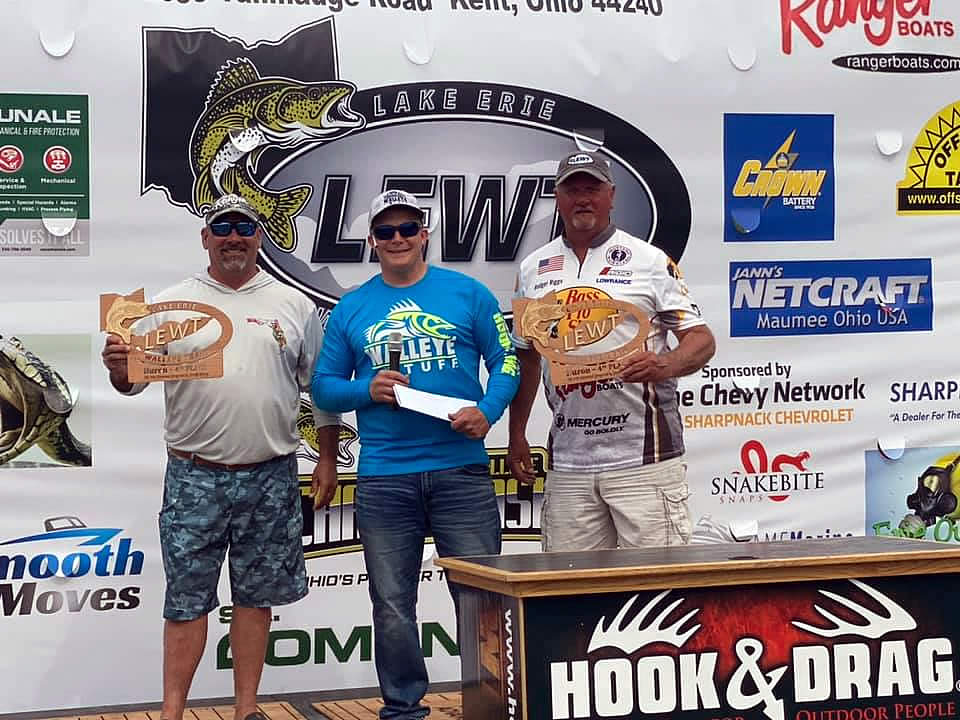 2021 Port Clinton ~ 4.17.21 Tournament Results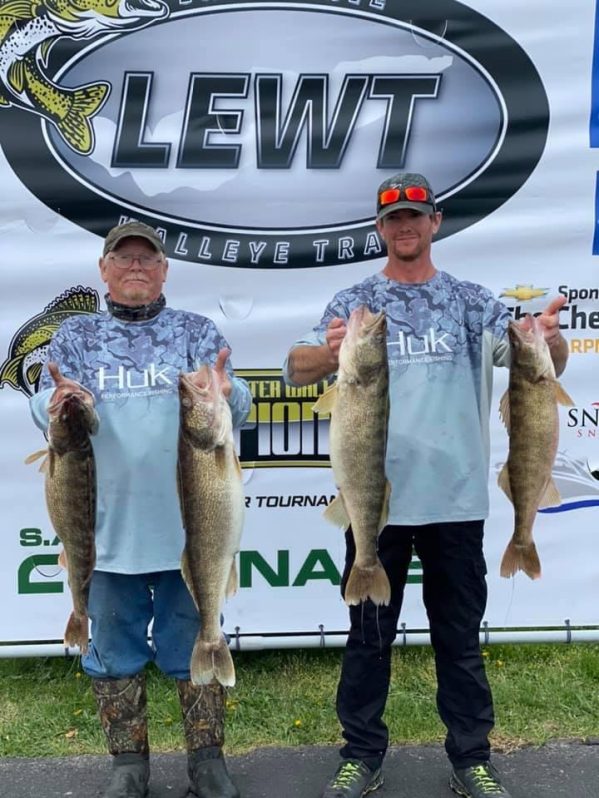 Finally a word about this weekend! Big Water Walleye Championships – Lake Erie Walleye Trail was teamed up with the Masters Walleye Circuit in host City of Port Clinton. The LEWT put on the 2nd team point stop in Port Clinton thanks to location sponsor Lakewood Products and Warrior Lures Sport Fishing Products. Our anglers tangled up with best anglers and the best walleye fishery this country has to offer.
Scott Boswell and Michael Boswell put together a flawless plan and bagged over 34# of Lake Erie walleye and first place in the LEWT. Scott and Michael were able to take home $6,000 for their top finish!
Edward and Steve Bogan edged out local walleye pro's Gary and Nicholas Zart for second place with 31.88 lbs. Gary and Nicholas secured their 3rd place finish with 31.38 lbs respectively. They also too home the Ranger Boats Cup award for an additional $500 just for owning and using a Vic's Sports Center Ranger Boat.
Erick Stull and Adam Mimirov managed to find the exact amount of weight that LEWT veterans Michelle and Chester Tabaczynski found and tied for 4th place weighing a total of 31.25 lbs.
Rounding out the top 6 was Tim Bock and Larry Germovsek with 30lbs even anchored by a 10.13 lb giant! Their big fish also took the big fish pot cashing in an additional $1080!
The LEWT paid out to the top 12 teams and offered contingency prizes from AquaTraction and Hook And Drag apparel for those teams finishing 13-14. Sharpnack Chevrolet Buick Cadillac paid out and additional contingency to Frank Broskey for owning and driving a Sharpnack Chevy. Total Purse was $24,990 and paid out to 15 LEWT Teams.
Magee East #1 ~ 3.27.21 ~ 2021 LEWT Tournament Report & Full Standings
David Kraut and Sam Downing claim to get "Lucky" and take home top price for Magee East. Downing and Kraut trolled Bandits around the cans to catch their biggest five fish. Ryan Yonkers and Cole Carlson, on the other hand, caught their five fish 20 miles away on the east side of Kelly's Island to bring in 34.79# and second place. Carlson located the fish during pre-fishing and had to work the Lowrance a little to find them again on tourney day but, It was a fire drill after setting up.
James Balog and and Corey Francis brought 33.02# to the scales starting off their run at 2021 TOY. Lucas "Yeti' Hahn and father G man continue their success weighing in 32.55# and cashing a check in 4 out of the last 5 tournaments! Rounding out the top 5 was Captain David Frey and Lonnie Hanchosky. The Big Albemarle didn't have to beat the seas in Erie this time around so I'm sure fishing in style tastes that much sweeter when bringing in 29.84# for 5 fish.
Husband and wife combo Edgar and Vicky Trent brought in the days Biggest Eye at 10.53 lbs! Edgar and Vicky nabbed up the Big Fish Side Pot with the big catch! Father/daughter Aaron and Jordyn Humbert claimed Sharpnack Chevy's contingency price being the highest finish owning a Sharpnack Chevy.
Gift Cards from Aqua Traction – AMF Marine, DB Marine, and Hook and Drag Apparel were given out to anglers finishing just out of the money!