2022 LEWT Geneva ~ 9.3.22
Geneva State Park was buzzing. It was everything a Labor Day weekend should be- warm weather, south winds, and a day on the water with friends. Over 80 teams of anglers were all setting sights on bringing home a piece of nearly $36,000 in prize money going to be paid out when the dust settled at the last regular season event of the LEWT.
Take off was smooth as the south winds had the lake laying flat. 82 Boats from three divisions let it rip at daybreak starting with the 2-man Team division, followed by the "Open" division, and then six Kayak division anglers.
The LEWT anglers battling for Team of the Year Points had extra cargo as the LEWT sent cameramen to capture what has dwindled down to a 6-team race to the top. Points leaders Chase Cominski and Jake Runyan looked to go back-to-back-to-back as they have won the previously held Lorain and Ashtabula events. Second place TOY team Ryan Buddie and Jason Kopf hinted at a long run after their interview and advised that the cameraman should buckle up for a long ride.
A LEWT chase boat followed anglers to the east to document what looked to be a monumental day, as Mike Miller and partner Bryan Fisher landed a 12.62# summertime giant followed up with several 8's and 7's, winning them the DB Marine Big Fish Friday the day prior. Hopes were high to say the least.
As the day went on, reports from the LEWT cameramen advised that the fish were biting, and bags were looking big. At 8:30 am the cameraman documenting Chase and Jake's day was literally shaking as he spoke with me as I checked in with him. Watching the team accumulate a nearly 40 lb. bag by 10 am was quite the spectacle and the young cameraman/fisherman himself was in awe. After check-in, it was determined that we would not remove the cameraman from the boat. We wanted to possibly capture what no team has ever done – win 3 straight LEWT events.
As the check-in time grew near, the anticipation was extremely high. The LEWT crew filled the back of the marina parking lot with what looked like a festival. The Ganley Chevy of Aurora truck pulling the Blaster Weigh Stage, Hook & Drag apparel van, Snakebite Snaps booth, and the Fall Brawl/LEWT apparel booth gave anglers and their families something to do while waiting for anglers to arrive. Quality Mark Inc. provided all the food and beverages you could eat, and the stage was officially set.
The first teams started to line up by the weigh stage just shy of 3:00 pm, and all of them had bags full of Lake Erie gold. The parking lot was full, and fish started hitting the scales. It didn't take long for Ciprian Donici and Paul Bortnick to bring in the first 30#+ bag of the day with 31.07#. Donici's 31-lb. bag consisted of fish caught using wire and bombers, an "out east" staple. That mark held on the LEWT side of things for a while, but eventually fell to 4th place overall.
Open Division Team Flyin Eyes weighed in next and brought an absolute slug summertime fish to tip the scales at 10.14#, eventually winning Big Fish in the Open Division and it was also the biggest fish of the day.
Team of the Year points leaders Chase Cominski and Jake Runyan patiently waited in line with a giant grin on their face in anticipation of a great weight. Jake carried the baskets to the stage, and everyone watched as their 5-best settled in at 37.82#. Cheers, screams of joy, and high 5's were had by all on stage and the team had set the mark high – extremely high – and eventually tournament winning high! The points leaders gapped the field by 5-pounds and did it with a LEWT cameraman on the boat. What an accomplishment! Look for the footage to be released soon.
Teams kept bringing fish to the scales, but team after team fell short ultimately leaving the 82-boat field wondering who would finish second. Luckily there are three divisions, so two other teams were able to taste sweet victory with Team Fowler bringing 33.62# to the scales and besting the 41-boat Open Division field.
Nate Leuders brought only four fish for 12.74# to the scales in the Kayak Division, but that's all it took. Nate, who has been in the money in the kayak division before, captured his first win. Chuck Earls, who is the pioneer in kayakers in the LEWT, finally found himself in race for the lead, but fell just short to Nate by .42 of a pound. Chuck did bring home the Big Fish in the kayak division, winning the extra bonus money sponsored by River's Edge.
Eric and Randy Stull found that second place slot on the LEWT side of things with 32.63#. On a day where 32-lbs. seems like the right number you'd need to win, finishing second place to a 37# bag is a tough pill to swallow.
Team Canyon Coolers in the Open Division put up 31.62# to best two other teams finishing with over 31-lbs: third place Team Bowman (31.25#) and fourth place Team Catch This (31.19#).
The last two teams making money in the open division were Aden Yoder and John Hershberger 5th with 30#, and Team DTF was sixth with 29.43#.
The Open Division paid out $13,770 for the main pot and Team Bowman won the DB Marine Side Bet good enough for another $6,000.
LEWT team Steve Hendricks and Bryan Ulmer ("Team Consistent") secured another top finish with 31.47#, besting out previously mentioned Donici and Bortnick by only .40-lbs. Tim Bock and Mike Ruffo filled that last pay spot for the day, finishing with 30.87#. Tim also landed 3rd place during Big Fish Friday with an 8.52# summertime pig.
The LEWT division paid out $10,485 on the day to the top 5 teams.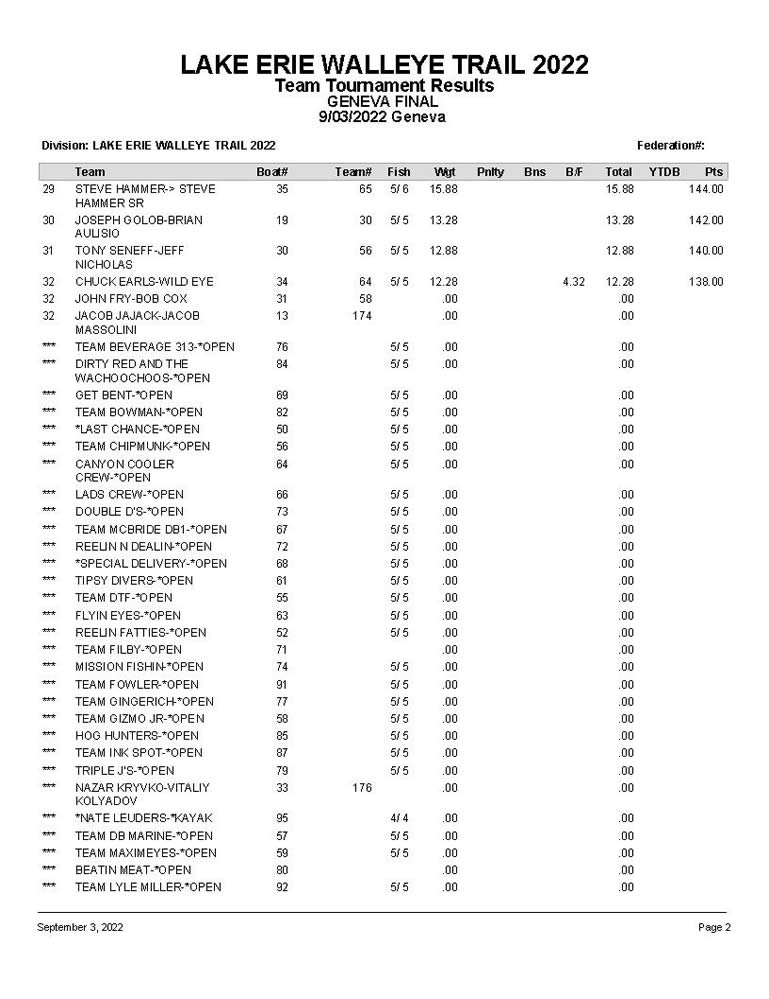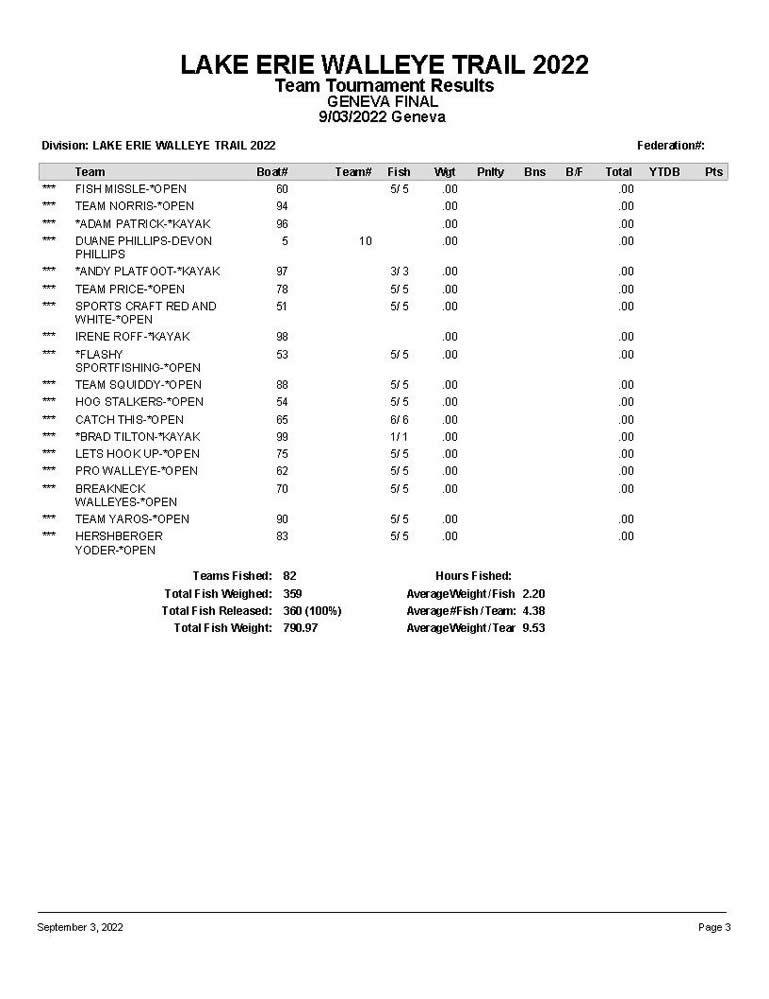 While the day was about fishing, the GOTL brought something more to light this year. Young Levi Lynch was introduced to me by Captain Alan Amon. Levi is 6 years old and battling a rare form of Leukemia. Levi is a fishin' fool and has fish on the brain 24/7 according to his mother Stephanie and father Jessie.
Levi was Assistant Director for the day and invited by LEWT staff to come be a part of the crew. Levi missed send-offs due to feeling a little under the weather, but nothing was stopping him from the awards ceremony. Levi was awarded the LEWT MVP and held that award above his head as the crowd cheered; Levi also received gifts and donations from DB Marine, Erie Outfitters, and Sandusky Bait Co. The LEWT, Fall Brawl, Crankin Hogs, Quality Mark Inc. and others all donated to the cause and made Levi on top of the world for the day. LEWT anglers were also able to donate a very generous sum of money to support Levi and his family.
The fishing community always pulls together and reminds us that although we do this for fun and we compete, nothing should be taken for granted and life is short. We all support each other, and we will overcome all things. We love you Levi and you will beat this.
We'll see you all at the LEWT Championship in Cleveland Sept 30th & Oct 1st. ALL teams welcome to compete.
Find out more at Lake Erie Walleye Trail.com
Huge thank you to our sponsors:
2022 LEWT Lorain ~ 6.11.22
LEWT Kayak Division makes history!!
Cominsky and Runyan keep finding a bite to finally bring them back to the top.
As the springtime slug fest turns into a battle of endurance on Lake Erie, anglers find themselves looking for that one good bite that can turn a 20# bag into that 25# (or more) bag. Anglers reported catching near a hundred walleye tourney day just trying to upgrade fish as they went.
Migrating schools of walleye this time of year are comprised of young fish ready to eat, making finding the right five bites difficult.
Team of the Year contenders Cominsky and Runyan set off tourney week to find the biggest fish Lake Erie was willing to give up which they knew was going to lead to long hours and a lot of fish. Additionally, with the national average of gas prices at the pump tipping the scales at over $5 a gallon, Cominsky knew that could play a factor in where he would concentrate most of his time.
Unwilling to give out the exact details, I was able to get out of the team that they searched from Fairport to Avon and were able to find a bite that most overlooked. This time of year finding a small trend that could yield a slightly different result could be just the edge you need come tourney day.
Cominsky told me that they ran the same leads all tourney day and the fish they caught were feeding on Gobies. Runyan disclosed that they ran a special Bandit that was custom painted and named after his step-son.
Cominsky and Runyan were able to sack up 34.90# to take home their first championship of the season. Only regret the two had on the day is forgetting to enter the Big Fish Side Pot and losing out on $1260 as their bag was anchored by an 8.88# fatty.
Cominsky, driving a Vic's Sports Center Ranger 622, secured the $7,000 Ranger Cup Bonus bringing their days winnings to $16,205. Ranger Cup has paid out every event this season bringing anglers extra winnings to $28,000. It literally pays to own a Vic's Ranger Boat.
Ryan Buddie and Jason Kopf set out this season to follow up their T.O.Y. campaign from the early days of the LEWT with a reunion tour in 2022. This team has done nothing short of rock, with a 4th, 3rd, and now a 2nd in their last 3 events.
Buddie and Kopf attributed their success to driving a Ranger 622FS safely about 50 miles one way across Lake Erie to the east side of Euclid to find a small pod of bigger fish. Buddie joked that the local gas station assisted in the process as well and he couldn't have done it without the fill up. Buddie and Kopf stated they brought the worm bite back and made it happen, good enough for 31.71# and 2nd place taking home $4,942.
Lorain gunners Steve Tyszko and Chris French always show up big in this neck of the woods and put together a 31.47# bag of Lorain walleye. These guys reported staying within a few miles of the port and grinding it out all day, upgrading bites as they made it to the boat and finishing out just shy of the second-place bag.
Tyszko reported dragging baits deep on snap weights to keep their baits in the strike zone. Tyszko and French fell short of the side pots and took home $1,791 for their efforts.
Long overdue team of Rob Lester and Randy Kline sacked up 29.65# of Lake Erie sharks landing them firmly in 4th place for the day. These guys have made history in the LEWT for a long time and finally landed themself back in the top five. Lester and Kline took home $1,474 for their efforts. Congrats on a solid finish, guys. Lester and Kline look to gain some ground in the TOY race as the final push of the season approaches.
Don Lint and Frank Broskey round out the Top Five and take home $1,232 with a 5th place effort. The team was able to get one big bite and brought in a 7.75# tank that anchored their 27.45# sack. A 5th place secures the team in the top 15 for TOY points and keeps them in striking distance for that S.A. Comunale and Vic's Sports Center TOY Bonus.
The LEWT paid out the top 12 teams and gave contingency prizes to several others courtesy of Erie Outfitters, Hook and Drag, and Aqua Traction.
Sixth (6th) through 12th were as follows:
6th ~ Josh Crum & Jordan Barth – 27.16#
7th ~ Chris Kosciewicz & Aaron Gavlak – 26.89#
8th ~ Nicholas Zart & Gary Zart – 25.58#
9th ~ Matt (GFYM) Bonkoski & Danny (17 Paid) Alverson – 25.27#
10th ~ David Frey & Lonnie Hanchosky – 24.35$
11th ~ Erik Jenson & Richard Koscielski – 24.13#
12th ~ Tyler Berthold & Jeremy Lisy – 24.01#
LEWT Kayak Division makes history with 9 Yak's taking the plunge into tourney fishing.
Chuck Earls continued to push the envelope and fish the LEWT against the best anglers with the baddest rigs with no fear, but now was his time to shine. Chuck organized the Yak division and spread the word to all of his Yak buddies to join him in on the first ever LEWT Kayak Division.
When Nate Leuders took the stage and weighed in the first ever Kayak limit of walleyes in the LEWT, I knew today was going to be special. Nate reported catching all of his weigh fish casting an Erie Dearie tipped with worms. What a cool way to fish AND bring back an original way to fish. Nate's 12.16# bag was eventually overcome, but he managed 3rd place overall and secured the big fish in the division with a 4.30# casting 'eye.
Mark Shutler brought 13.76# of kayak gold to the scales landing him in 1st place overall in the first ever LEWT Kayak division. Adam Patrick followed up 1st place with a 12.55# bag of his own securing 2nd place.
The Yak division payed out 3 places for just under $1,000. We are looking into considering a Yak division in Ashtabula in July.
The LEWT will continue the trail in Ashtabula's ARU Campground for the annual Vic's Sports Center Open on July 23rd. Visit us at LakeErieWalleyeTrail.com for more info or to register.
2022 LEWT Huron ~ 5.14.22
The LEWT's biggest stand-alone field ever!
Finally, Mother Nature was able to string together a week worth of favorable weather for a LEWT event. Anglers set off the week of pre-fishing with warm temps, south winds, and hungry post spawn Lake Erie walleye. As the unusual spring continues, anglers are seeing greater number of walleyes east of normal patterns. Many anglers are targeting walleye as far as Cleveland and they have been catching big fish filled with shad.
Huron always seems to produce big bags of fish and the stable weather and calm seas only increased the anticipation for this year's Lakewood Products Huron Event.
As tourney Saturday, arrived anglers were met with slow rollers and distant isolated storms off in the distance. After send off anglers were instructed to seek shelter if needed, but no reports of storms were mentioned and Huron barely saw a drop of rain all day.
The first flight of the 91-boat field sent off at 6:30 am following the national anthem and some last-minute rule reminders. Flight 2 followed at 7:00 am officially making Huron the LEWT's biggest stand-alone event in history.
While the anglers searched Lake Erie for the best five fish they could bag, Big Water Walleye Championships ( the new owners of the Lake Erie Fall Brawl) organized a pig roast and set up for the weigh-ins for the LEWT. The Huron parking looked more like a small carnival with vendors from the Fall Brawl, LEWT, Hook and Drag, and Outdoor 101.
As 2:30 grew near the parking lot was beginning to fill up with locals and family members all anticipating the big bags coming across the scales.
Teams started making a line at the bump tanks and early looks indicated that bags were going to be heavy. Cominsky and Runyan were first to weigh setting the stage with a 34.12# bag, ultimately finishing in 9th place. 
A GIANT 41.19# bag tipped the scales to take the day. 2019 TOY and 2020 TOY runner-up Gary and Alex Kisel cashed their second straight check and their first victory since their TOY run in 2019. The Kisels cashed in on the 1st place LEWT payout, 1st place in the side pot, and Ranger Cup good enough for $17,172. The Kisels fished the Avon area and anchored their 41# championship bag with a 9.44# tanker, just shy of this weeks "Big Fish" – a 9.63# beast caught by Danny (17 Paid) Alverson and Matt Bonkoski worth $1,460. Bonk and 17 Paid were reportedly fishing in Lorain when they hooked into the eventual big fish winner.
Sandusky Champions Joe Gibson and Bryan Beck keep the momentum going and bagged their first 40+ lb sack weighing in 40.33# of Lake Erie gold. Gibson spent his birthday fishing the LEWT and was rewarded with a share of $5,486 for 2nd place in the LEWT and 2nd place in the Side Pot. Gibson paid for it though, as LEWT anglers and the crowd embarrassed him by singing Happy Birthday while on stage.
Mike Miller and Bryan Fisher followed up Gibson and Beck with 38.74# for their best five. Miller and Fisher are a new team for 2022 and have shown that they are dangerous, this is the 2nd straight check for the duo and the 3rd straight check for Fisher (including the Jigging Open). They fished alongside team mates Gibson and Beck off of Avon. They will take home $1,887 for 3rd place.
Long time LEWT anglers Ryan Buddie and Jason Kopf yet again sit atop the leaderboard with a 4th place finish, good enough for $1,577 with a 36.86# five fish bag. Kopf and Buddie are long time LEWT anglers and it has been reported that their name was etched into the LEWT TOY record books long before the day of computerized record keeping. The old dogs are keeping up with the trends and showing these new guys they still have what it takes to be a LEWT team to beat.
Rounding out the top five is Thomas Nordyke Sr. and sub James Duvall. They racked up 35.92# good enough to edge out 6th place team of Lander and Williams with 35.61#. Nordyke and Duvall took home $1,310, followed by $1,206 for Lander and Williams.
Steve Tyszco and Christopher French claimed the 7th place spot with 35.15#, good enough for $1,121. French and Tyszco were able to edge out Lucas (The Yeti) Hahn and Russ Hannu who finished 8th and have owned this event in the past, winning in 2020 and bringing in 40# in 2021. Hannu and Hahn collected $995 for 8th place.
Some would argue that the highlight of the day was the big fish and the great atmosphere or huge crowd, but I would argue that it was seeing Gavin and Jordan Pongracz walk across the stage with 27.91# of Lake Erie sharks. This team is 8- and 10-years old and fished with their father Gary Pongracz as a supervisor.
These young men took it to the old timers and showed what the next generation of LEWT anglers looks like. There is no way these boys won't be in the winner's circle soon. Family, friends, and the outdoors is what it's all about, and we thank you boys for fishing with us.
2022 Sandusky MWC ~ 4.22-23.22
Joe Gibson & Bryan Beck take Sandusky
Ranger Cup awards increase to $21,000 on the year!
The week started off with high winds and cold weather, but the anglers still made their way to the lake to pre-fish. As the weekend approached it was obvious that we would get the combo LEWT/MWC event in as scheduled, but Mother Nature wasn't going to give it up without a fight. Friday anglers were met with cold weather and gusty East winds. Many anglers were faced with decisions on fuel and time management to put together their best five fish.
Anglers found a great bite to the East that appeared to be weeks ahead of schedule, BUT… could they get there in the conditions?
On Day 1 the top three teams, Steve Hendricks/Brian Ulmer (37.02#), Joe Gibson/Bryan Beck (36.03#), and Ryan Buddie/Jason Kopf (33.08#) all weathered the conditions and made the big run East to find the best walleye in the HUGE 167-boat combo LEWT/MWC field.
Day 2 was immediately different as the sun started to rise and the warm south wind blew across the bay. Anglers were now able to focus more on the fishing as opposed to the conditions. After day one most anglers found it difficult to find those elusive Fish Ohio walleye that Lake Erie is known for. Everyone knew there was room for movement on the leaderboard.
As the scales opened and anglers started to roll in the difference was noticeable immediately. Bags increased from low- to mid-20's to mid- to high-20's and indicated that the stable warmer weather had turned the big fish bite on.
Day 1 leaders weighed in early and set the bar high with a two-day total of 67.13# of Lake Erie gold. With 167 boats in the combo field, LEWT veterans Hendricks and Ulmer were uncomfortable at the top as team after team attempted to take that top spot.
Third place team Buddie and Kopf brought a great day two bag to the scales, but watched the scales settle in just shy of 32#. Disappointing for the LEWT veterans, but still good enough for second place in both the LEWT and MWC.
As more and more teams hit the scales it was apparent that the day one deficit that many anglers fell victim to proved to be too much to overcome. Team after team weighing bags in the 27#-30# range juggled the top 15 paid spots in the LEWT. It wasn't until boat 94 Gibson and Beck brought their bag to the stage.
Needing 31.10# to tie Gibson and Beck placed their bag on the scales. The scale jumped to 31.12# and as the water dripped off the fish dropped to 31.11# and locked in giving the team a ONE OUNCE lead on the 167 boat combo field. Gibson and Beck high-fived and celebrated, but quickly found their way back to reality as they knew there was half the field yet to weigh in.
Team after team failed to knock the new 2022 LEWT team off the top spot. Gibson and Beck were finally invited back to the stage to watch as the final teams attempted to knock them off the top of the leaderboard. As the final bag hit the scales the duo knew that they had just done it.
For the first time in three years a LEWT/MWC combo team has won both of the events. Gibson and Beck screamed and hoisted both LEWT and MWC trophies high above the stage.
Both Gibson and Beck are new 2021 and 2022 Ranger boat owners and both are registered for Ranger Cup earning the team an extra $7,000 for the LEWT and $7,000 for the MWC. This the second event straight that Ranger Cup will add to an already hefty LEWT cash payout.
Gibson and Beck claimed the 1st place spot in the Side Pot as well bringing their total tournament payout to $19,806.
Hendricks and Ulmer accepted their second place trophies with great pride and joy claiming $6,983. A bitter-sweet ending to a great tournament.
Buddie and Kopf fell just short of the Bonus Side Pot money since both the first and second place teams claimed the Side Pots, but made $2,265 for their Third Place finish.
Skupian and Neumann are becoming household names here in the LEWT with yet another top finish. The 4th place 2021 TOY team brought 61.02# to the scales, good enough for Fourth Place.
Tim Bock and Mike Ruffo tied Chase Cominsky and Jake Runyan for 5th place with 60.09#. Bock and Ruffo bested Cominsky and Runyan by tie breaker rules by weighing in a 9.04# big fish that topped Cominsky and Runyan's 8.13#.
2019 TOY Gary and Alex Kisel landed a giant 11.09# slug, good enough for Big Fish of the event and $1,940. This fish claimed the top spot on the MWC side as well.
The LEWT paid out 15 spots in Sandusky and paid out nearly $43,000 with Ranger Cup to anglers.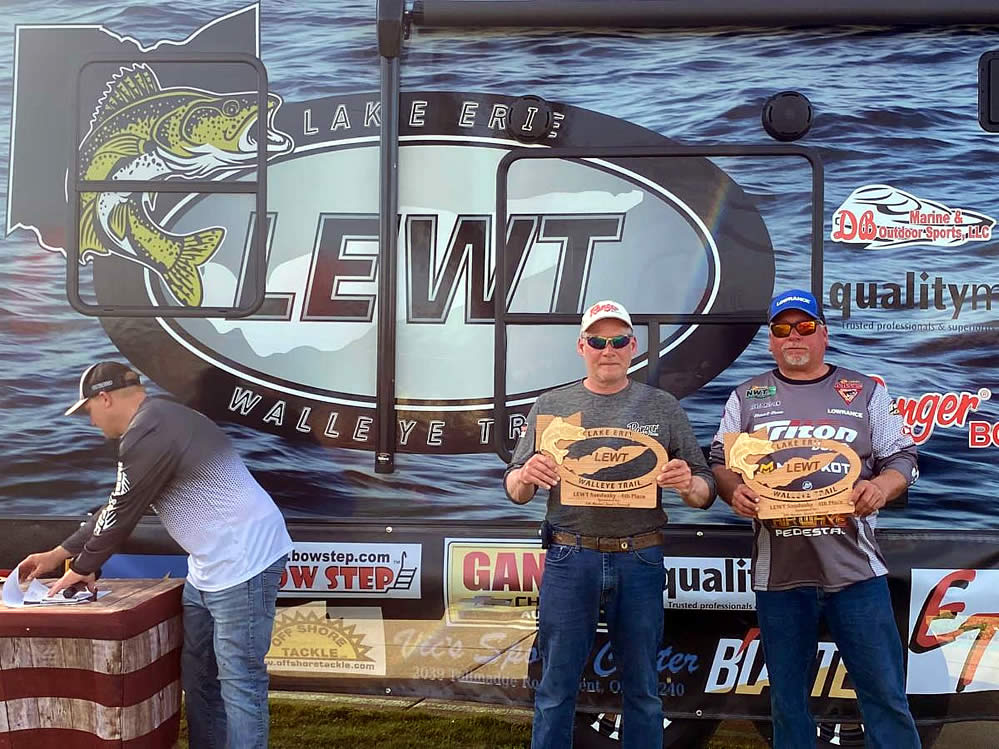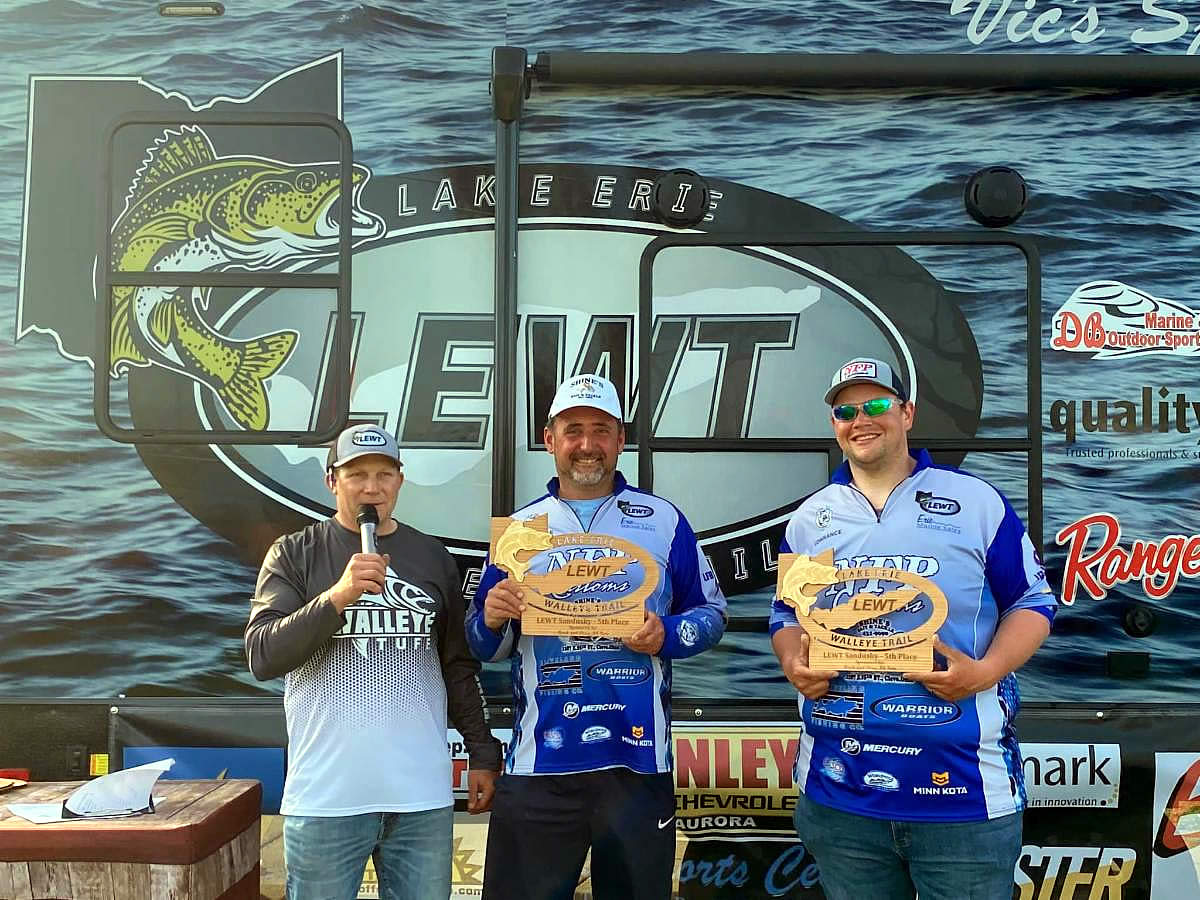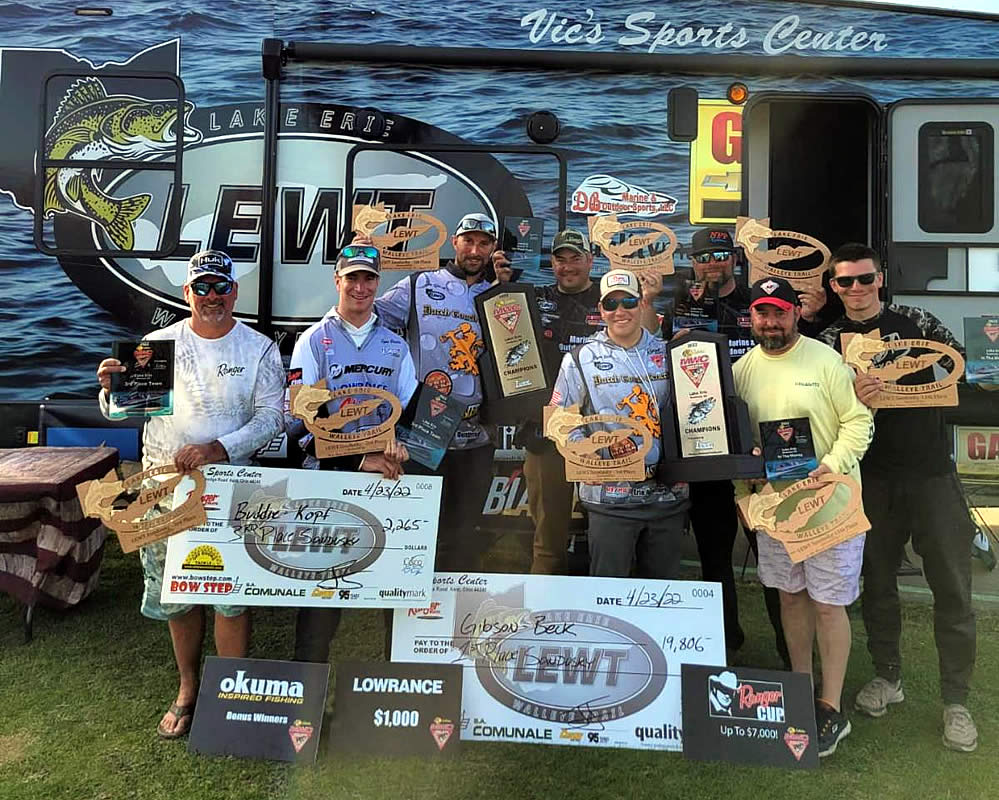 2022 LEWT Magee East ~ 4.2.22 RESULTS
Hahn and Hannu Take home the Title! Hahn and Hannu take home Magee!
Ok, Ok, sorry for the delay. In the craziness we packed up my tourney computer in the trailer, so I had no computer last night. Here are the Magee results.
Huge THANK YOU to our title sponsors: Vic's Sports Center, Crown Battery, Quality Mark, DB Marine & Outdoor Sports, LLC, Edgar Trent Construction, SA Comunale, Off Shore Tackle Company, and Blaster Products. Title sponsors along with all of our other sponsors make the LEWT the best series on the Lake.
Additionally, huge THANK YOU to Magee East Marina and Campground and Ted Thomas for hosting us again this year. Magee is one of our favorite locations.
Lucas Hahn, the hottest fisherman on Lake Erie keeps his streak alive and steps up his second place finish from the LEWT Championship in 2021 with a first place finish to start the 2022 season off right.
 Lucas retired his partner, father G-man and is fishing with new partner Russ Hannu this year. The team caught 36.23# of Lake Erie walleye to edge out the field for first place. Lucas and Russ earned $15,399 for their efforts. They won Ranger Cup and First Place Side Pot.
New early bird team Travis Smith and TJ Phillips weren't far behind weighing in 36.19# of springtime Lake Erie walleye. Only .04 of a pound behind Lucas and Russ to cap off second place. Travis and TJ brought home $3239 for second place. They were also just shy of tourney big fish with a 9.21# slug.
Team Boswell and Boswell continue their hot fishing out west with 36.15# following up a win that they had in Port Clinton in 2021. Scott Boswell and Michael Boswell continue to show why they are dangerous on the west end of the lake. Team Boswell brought home $1488 for third place.
In fourth place, Steve Krim and Jason McElwain weighed in 34.08# for five fish. Steve Krim also took home numerous raffle prizes and giveaways from the Fall Brawl, LEWT, and Magee East. Team Krim and McElwain also won Second Place in the Side Pot. 4th place overall and 2nd place side pot paid $2558.
Andrew Harmon and longtime partner Ryan Pettry Weighed in five fish for 32.12#, good enough for 7th place and $928. Robert Green and Mark Spencer pulled in 32.31# locking in 8th place and $823.
Title sponsor and Team Consistent Steve Hendricks and Brian Ulmer carried 32.12# of Lake Erie walleye to the scales bagging 9th place good enough for $770. The best haircut on the circuit Dylan Nissley and Sam Schmucker rounded out the top 10 with 32.10# making the money mark worth $420.
13th place team Josh Lewis and Jeff Hunter brought in the tourney Big Fish weighing a 9.55# beast making them $1080!
Teams Gibson and Beck, Frey and Hanchosky, Lewis and Hunter, Cominski and Runyan, and Tyszco Banaszak round out the top 15 respectively.
The LEWT paid out $22,390 in cash and prizes to our anglers on Saturday. Additionally, the LEWT Anglers put on another Fischer Classic and raised over 3k for a local angler battling cancer! We have your back, Perlaky family!